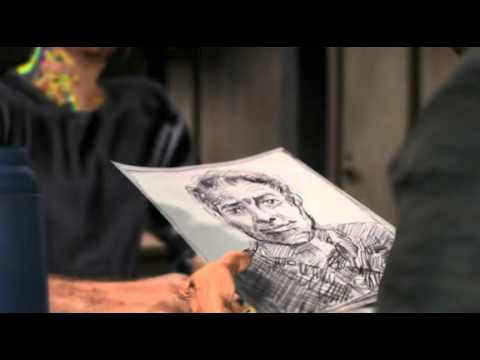 A gentleman panhandler. One of the pioneers of Canadian animation. Oscar nominee. Poor beggar. An artist unable to create. God observing the world. Fallen angel. Arrogant. Shy. Broken. Not destroyed.

Ryan, directed by Chris Landreth, is an animated tribute to Canadian animator Ryan Larkin. Thirty years ago, at the National Film Board of Canada, Ryan produced some of the most influential animated films of his time.
Das National Film Board of Canada fasst die Geschichte ziemlich treffend zusammen.
Ausserdem macht Landreth hierbei was ganz Wunderbares, er setzt das 3D so intelligent ein, dass es ein elementarer Bestandteil der Geschichte wird. Hört sich jetzt nicht so spektakulär an dieser Ansatz, aber so oft kommt das gar nicht mal vor.
Director: Chris Landreth (2004)
Great Shorts Folge #15